Feist on TV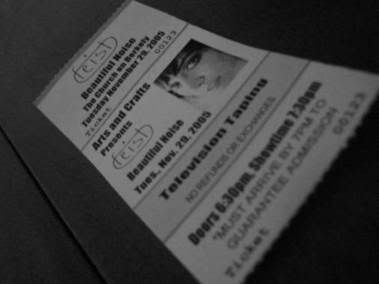 Got a surprise last minute invite to Feist's performance last night at the Church on Berkley for the
Beautiful Noise
show set to air in the US on, uh, the RAVEHD network. Apparently Sarah Harmer was in the same space the night before for her very own special, and Ron Sexsmith and other talents have done the show as well. I guess I shouldn't be surprised that so much Canadian talent is getting filmed right now, but it's sort of unfortunate that Canadians won't get to see the final product.
Feist herself was excellent, of course, and ending up playing for about 2 hours-save for a number of stops-the show really sort of drew itself out a lot longer than necessary. It's of course hard to complain about a free, exclusive, show, but a
similarly formatted taping
that I was at recently went much more smoothly.
We did get to hear some new songs, which were really, good, and alternate takes on
Mushaboom
and
Let it Die
demonstrated the not-surprising desire for her to breathe new life into songs that may be a little too familiar for her by now.