on charlie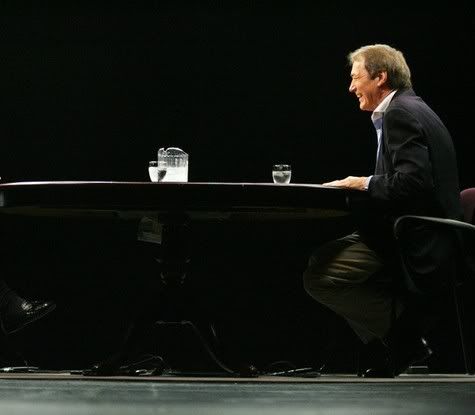 In the past bunch of weeks I've gotten a little obsessed with
Charlie Rose
. My prior experiences with his show usually involved me coming home late on a weekend night, snacking to ward off any next-morning ugliness, and randomly catching a rerun of Charlie on PBS from the prior week.
It doesn't get more basic than Charlie. He possesses a knowledge and wit so broad that I've recently see him go toe to toe with everyone from current presidential candidates to Jay-Z. He's been criticized in the past for being softball, but he is no
clueless Larry King
- if only he wasn't relegated to his late timeslot (or in my affiliate's case, weird next-day afternoon replays that force me to tape 5 days a week). The variety of A-listers from heads of state to the big stars and directors on Film Fridays provide an insightful daily mix of discussion.
I wonder if PBS has some sort of cradle-to-the-grave programming mandate actually, as Charlie is the comfortable old-person's Mr Rogers. Not a bad plan.